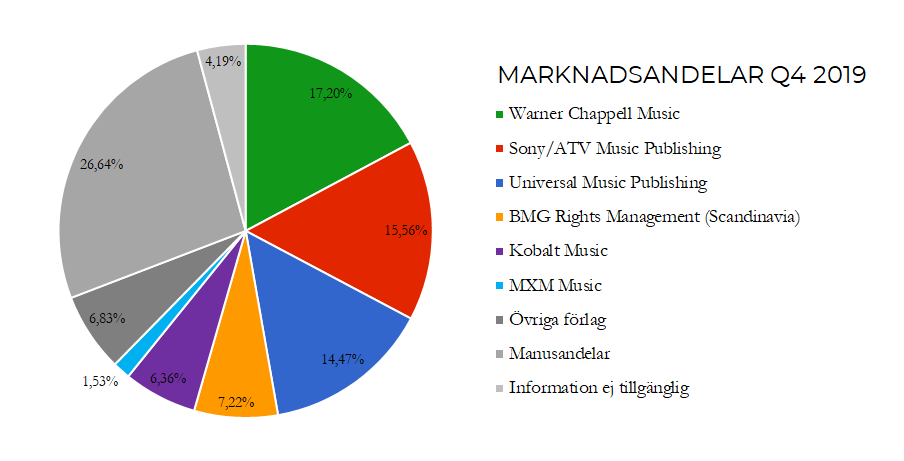 2020.02.04
Förlagens marknadsandelar Q4 2019
Warner Chappell Music kliver upp på tronen som största förlag på singellistan under 2019 års sista kvartal, medan Sony/ATV Music Publishing backar till andraplatsen. Superhiten "Dance Monkey" med Tones and I är en förklaring till Warner Chappells framgångar.
Med något enstaka undantag är det Sony/ATV som varit dominerande musikförlag på den officiella svenska topplistan de senaste åren, i de sammanställningar som Musikförläggarna regelbundet tar fram. Men för Q4 2019 är det alltså Warner Chappell som blir största förlag med 17,20% av andelarna, att jämföra med 9,69% under Q3. Warner Chappell är ensamt förlag att representera låten Dance Monkey (Toni Watson) med Tones and I, som toppar singellistan för perioden.
Sony/ATV hamnar på andra plats med 15,56 (Q3 – 20,92%) medan Universal Music Publishing ligger strax efter med 14,47% (16,3% under Q3). Därefter blir glappet större till BMG Rights Management (7,22%) och Kobalt Music (6,36%).
Andelen som betecknas "manus", dvs saknar förlagsinformation, minskar något, till 26,64%, från tidigare kvartals 31,22%.
Under tredje kvartalet 2019 var andelen låtar med svenska låtskrivare på listan ovanligt hög, 70%, tack vare den nya vågen av svensk hiphop. Under Q4 har den andelen minskat, men är fortsatt hög, då 60 av 100 låtar har svenska låtskrivare. På topp tio har sju av låtarna svenska upphovspersoner.
Christel Valsinger, Musikindustrin.se
Kvartalssammanställningen avser musikförlagens marknadsandelar för den officiella svenska topplistan – Topp 100 singel. Diagrammet baseras på försäljningsindex från IFPI och www.sverigetopplistan.se
1. Tones and I - Dance Monkey
Watson (Warner Chappell)
2. Dree Low - Pippi
Abdulle, Jansson, Montin (Sony/ATV, Manus)
3. Miss Li - Lev nu dö sen
Al Fakir, Askergren, Pontare, Rekik (Alexis Publishing, Universal Music Publishing, Rex Music, Warner Chappell)
4. 1.Cuz, Greekazo & Yei Gonzalez - Försent
Bakar, Cielma Miliarakis, Gonzalez Tapia (Baggpipe Studios, Manus)
5. Lewis Capaldi - Someone You Loved
Capaldi, Roman, Barnes, Kelleher, Kohn (BMG, Sony/ATV)
6. Greekazo & DnoteOnDaBeat - HotSpot
Cielma Miliarakis, Issa (Lilly Raye Music Publishing, Warner Chappell, Manus)
7. Dani M & Simon Superti - F.A.M.E (LeyLey)
Monserrat, Superti (Sony/ATV, Manus)
8. Maroon 5 - Memories
Bellion, Johnson, Johnson, Pollack, Ford, Levine, Hindlin (BMG, Kobalt, Warner Chappell, Blue Mountain Music, Universal Music Publishing)
9. Dizzy & Einár - Härifrån
Information ej tillgänglig (Information ej tillgänglig)
10. Estraden & Victor Leksell - Bra för dig
Björk, Koda, Flygare Floderer, Lennartsson, Silvergran, Sandro Cavazza, Leksell (Sony/ATV, BMG, Manus)
11. Greekazo, Yei Gonzalez, DnoteOnDaBeat - Sprayad
Cielma Miliarakis, Gonzalez Tapia, Issa (Baggpipe Studios, Lilly Raye Music Publishing, Warner Chappell, Manus)
12. Travis Scott - Highest in the Room
Webster, Yildirim, Dean, Frascona, Khan (Sony/ATV, CTM Publishing, Warner Chappell, Manus)
13. Post Malone - Circles
Post, Feeney, Bell, Walsh, Gunesberk (Sony/ATV, Universal Music Publishing)
14. Mariah Carey - All I Want for Christmas Is You
Carey, Afanasieff (Universal Music Publishing, Sony/ATV, Kobalt)
15. Dree Low - Dag Hammarskjöld (feat. Einár)
Abdulle, Grönberg, Hassen (Lilly Raye Music Publishing, Warner Chappell, Manus)
16. Wham! - Last Christmas
Michael (Warner Chappell)
17. Nea - Some Say
Lobina, Randone, Christopher, Kottkamp, Södahl, Gabutti, Chacon, Kalisch, Meinke, Vlasenko (Sony/ATV, Warner Chappell, Manus)
18. Aden x Asme - Starta vågen
Tsigabu (Manus)
19. Macky & Einár - Tesla
Chavez Pacheco, El Amri, Grönberg, Hansen (Manus)
20. Billie Eilish - Bad Guy
O'Connell, O'Connell (Kobalt, Universal Music Publishing)
21. Shawn Mendes & Camila Cabello - Señorita
Aitchison, Tamposi, Wotman, Levin, Cabello, Mendes, Patterson, Hoiberg (Sony/ATV, Universal Music Publishing, Kobalt, The Bank Music Publishing)
22. Ed Sheeran - Beautiful People (feat. Khalid)
Fred, Max Martin, Schuster, Sheeran, Robinson (MXM Music, Kobalt, Sony/ATV, Universal Music Publishing)
23. Molly Sandén - Rosa himmel (från "Störst av allt")
Johansson, Lindvall (Universal Music Publishing, Manus)
24. Ed Sheeran & Justin Bieber - I Don't Care
Gibson, Max Martin, Sheeran, Shellback, Bieber, Pooh (MXM Music, Kobalt, Universal Music Publishing, Sony/ATV, BMG)
25. Arizona Zervas - Roxanne
Zervas, Jennings, Greenspan, Grieve (Kobalt, Manus)
26. Veronica Maggio - Tillfälligheter
Berg, Maggio, Hassle, Rahmani Azer (Cannoli Songs, Sony/ATV, Universal Music Publishing)
27. Selena Gomez - Lose You To Love Me
Fredriksson, Larsson, Michaels, Tranter, Gomez (Songs of Wolf Cousins, Warner Chappell, Universal Music Publishing)
28. Billie Eilish - Everything I Wanted
O'Connell, O'Connell (Kobalt, Universal Music Publishing)
29. Einár - Nr 1 (feat. Greekazo)
Cielma Miliarakis, Grönberg, Chavez Pacheco (Manus)
30. Miriam Bryant - Mi Amor (Blåmärkshårt) feat. Cherrie/Molly/Stor
Alderin Francis, Bryant, Maggio, Runemark, Infante Azocar (Universal Music Publishing, Manus)
31. Smith & Thell - Hotel Walls
Berg, Smith, Tidebrink Stomberg, Thell (Cannoli Songs, Sony/ATV, Universal Music Publishing)
32. Einár - Nu vi skiner
Grönberg, Hassen (Lilly Raye Music Publishing, Warner Chappell, Manus)
33. Blackbear - Hot Girl Bummer
Goldstein, Musto (Kobalt, Universal Music Publishing)
34. Einár - Drip 2 Hard
Information ej tillgänglig (Information ej tillgänglig)
35. Triad - Tänd ett ljus
Lindbom, Strömstedt (Sony/ATV)
36. Dua Lipa - Don't Start Now
Schwartz, Caroline, Kirkpatrick, Lipa (Kobalt, BMG, Warner Chappell, Universal Music Publishing)
37. Einár - Första klass
Grönberg (Manus)
38. Freddy Kalas - Hey Ho
Auke, Auke, Christiansen, Huse, Opsahl (Manus)
39. Lady Gaga & Bradley Cooper - Shallow
Germanotta, Ronson, Rossomando, Wyatt (Downtown Music Publishing, Sony/ATV, Concord Music Publishing, Universal Music Publishing)
40. Z.E - Igen
Hassen, Wojciechowicz (Lilly Raye Music Publishing, Warner Chappell, Manus)
41. Regard - Ride It
Volant, Sampson, Sean (BMG, Manus)
42. Michael Bublé - It's Beginning To Look a Lot Like Christmas
Willson (Kobalt)
43. Molly Sandén - Alla våra smeknamn
Högdahl, Sandén, Smith, Thell (Sony/ATV, Manus)
44. The Weeknd - Blinding Lights
Tesfaye, Holter, Max Martin, Balshe, Quenneville (MXM Music, Kobalt, Songs of Wolf Cousins, Warner Chappell, Manus)
45. Kygo & Whitney Houston - Higher Love
Jennings, Winwood (Kobalt, Universal Music Publishing)
46. Robbz & Brookz - Triangeldrama
Reda, Fetahanegest, Yosif (Manus)
47. Lil Tecca - Ran$om
Sharpe, Mira, Snodgrass (Universal Music Publishing, Kobalt)
48. Dree Low - Kapabel 2 (feat. Adel)
Abdulle, Dostani, Issa (Lilly Raye Music Publishing, Warner Chappell, Manus)
49. José Feliciano - Feliz Navidad
Feliciano (BMG)
50. P.J, Dree Low - Top Class
Information ej tillgänglig (Information ej tillgänglig)
51. Ant Wan - Va mig
Afram (Manus)
52. Avicii - SOS (feat. Aloe Blacc)
Bergling, Fogelmark, Nedler, Briggs, Burruss, Cottle (Kobalt, Sony/ATV, BMG, Warner Chappell)
53. Dan + Shay & Justin Bieber - 10,000 Hours
Dillon, Mooney, Reynolds, Smyers, Bieber, Pooh (Warner Chappell, BMG, Universal Music Publishing, Manus)
54. Jung - Let Him Go (feat. Clara Mae)
Björk, Hagman, Ljungqvist, Ljungqvist, Ströberg (Universal Music Publishing, BMG, Warner Chappell)
55. Ariana Grande - Santa Tell Me
Ilya, Kotecha, Grande (Wolf Cousins, Warner Chappell, BMG, MXM Music, Kobalt, Universal Music Publishing)
56. Adolphson-Falk - Mer jul
Falk, Adolphson (BMG)
57. Molly Sandén - Det bästa kanske inte hänt än
Högdahl, Sandén, Smith, Thell (Sony/ATV, Manus)
58. Einár - Toucha fame (feat. Thrife)
Grönberg, Jack, Gonzalez Tapia (Baggpipe Studios, Manus)
59. K-391, Alan Walker & Martin Tungevaag - Play (feat. Mangoo)
Brånn, Folstad, Pavelich, Tungevåg, Sauvik, Borgen, Nilsen, Walker, Eriksen, Frøen, Haugan, Normann (Sony/ATV, Warner Chappell, Manus)
60. Harry Styles - Lights Up
Johnson, Styles, Hull (Universal Music Publishing, CTM Music Publishing)
61. Einár & Dree Low - Min nivå
Grönberg, Abdulle, Hassen (Lilly Raye Music Publishing, Warner Chappell, Manus)
62. Adel & Dree Low - No Cap
Abdulle, Dostani, Hassen (Lilly Raye Music Publishing, Warner Chappell, Manus)
63. Z.E, Thrife & Nigma - Klick
Berhane, El Boudoufti Bergh, Jack, Wojciechowicz, Yosif (Manus)
64. Lil Nas X - Old Town Road Remix (feat. Billy Ray Cyrus)
Reznor, Hill, Roukema, Ross, Cyrus, Donald (Kobalt, Universal Music Publishing, Sony/ATV)
65. Bobby Helms - Jingle Bell Rock
Beal, Boothe (Musikförlaget Essex)
66. Trevor Daniel - Falling
Neill, Candilora, Snodgrass, Vojtesak (Kobalt, Universal Music Publishing, Manus)
67. Yasin & Dree Low - XO
Yohannes, Abdulle, Mahamoud (Manus)
68. Victor Leksell - Klär av dig
Alfredsson, Forsling (Sony/ATV)
69. Petter - Kung för en dag (feat. Magnus Uggla)
Uggla, Henriksson (Uggly Music)
70. Stormzy - Vossi Bop Remix (feat. Aden x Asme)
Anderson, Owuo Junior, Andoh-Munar, Forbes (Sony/ATV, Universal Music Publishing, Warner Chappell)
71. Justin Bieber - Mistletoe
Atweh, Messinger, Bieber (Sony/ATV, Universal Music Publishing)
72. Brenda Lee - Rockin' Around the Christmas Tree
Marks (Warner Chappell)
73. Tommy Körberg & Sissel Kyrkjebö - Julen är här
Butt, Rydell (Misty Music)
74. Dree Low, Adel - Santa Lucia
Abdulle, Dostani, Gonzalez Tapia, Issa (Baggpipe Studios, Lilly Raye Music Publishing, Warner Chappell, Manus)
75. Sam Smith - How Do You Sleep?
Ilya, Kotecha, Smith, Max Martin (MXM Music, Kobalt, Songs of Wolf Cousins, Warner Chappell, Sony/ATV)
76. Frank Sinatra - Let It Snow! Let It Snow! Let It Snow!
Cahn, Styne (Concord Music Publishing, Warner Chappell)
77. Chris Rea - Driving Home for Christmas
Rea (Warner Chappell)
78. Lewis Capaldi - Bruises
Capaldi, Earp (BMG, Concord Music Publishing)
79. Yasin - DSGIS
Information ej tillgänglig (Information ej tillgänglig)
80. Ringnes-Ronny - Jag vil ha dig
Björntvedt (Manus)
81. The Pogues feat. Kirsty Maccoll - Fairytale of New York
Finer, Mac-Gowan (Universal Music Publishing)
82. Gammal - Sånger från förut
Gustafsson, Parnevik, Petersson (The Kennel, Universal Music Publishing)
83. Miss Li - Då börjar fåglar sjunga
Eriksson, Glenmark, Strömstedt (Blue Cable Music, Nixsongs, Living In A Box, Universal Music Publishing)
84. Ed Sheeran - South of the Border (feat. Camila Cabillo/Cardi B)
Fred, Mac Steve, Sheeran, Cabello, Almanzar, Thorpe (Sony/ATV, Universal Music Publishing)
85. Z.E - 74 Bars
Hassen, Wojciechowicz (Lilly Raye Music Publishing, Warner Chappell, Manus)
86. Band Aid - Do They Know It's Christmas?
Geldof, Ure (Warner Chappell)
87. Magnus Uggla - Det går bra nu
Askergren, Ishi (Alexis Publishing, Universal Music Publishing, Sony/ATV)
88. John & Yoko, The Plastic Ono Band - Happy Xmas (War Is Over)
Lennon, Ono (Universal Music Publishing)
89. Tove Lo - Sweettalk My Heart
Halldin, Hazell, Söderberg, Tove Lo (Songs of Wolf Cousins, Big Noise Publishing, S.C.H! Publishing, Warner Chappell)
90. Molly Sandén - Sand
Högdahl, Sandén, Smith, Thell (Sony/ATV, Manus)
91. Juice WRLD & Youngboy Never Broke Again - Bandit
Mira, Higgins, Gaulden (Universal Music Publishing, Kobalt, BMG)
92. Jiggz - Boss
Hossein, Munoz Huapaya, Svärd (Manus)
93. Einár - Katten i trakten
Grönberg, Kerbel, Kerbel (Warner Chappell, Manus)
94. Rami - Pu$ha
Elias, Yosif (Manus)
95. Peter Jöback - Jag kommer hem igen till jul
Mattsson, Frisk (BMG)
96. Hov1 & Veronica Maggio - Hornstullsstrand
Flike, Kronstrand, Liljefors Jansson, Lindhe, Resch Thomason, Maggio (Universal Music Publishing, Manus)
97. Lizzo - Good as Hell (Remix) feat. Ariana Grande
Frederic, Jefferson (Sony/ATV, Warner Chappell)
98. Post Malone & Swae Lee - Sunflower
Brown, Lang, Bell, Post, Rosen, Walsh (Warner Chappell, Sony/ATV, Universal Music Publishing)
99. Billie Eilish - When the Party's Over
O'Connell (Kobalt)
100. Mares - Sunnanvind
Arvidsson Kylin, Eckeborn, Dahnberg, Danfors, Egrelius Fredlund, Nilsson, Wärendh Rylander (Warner Chappell, Manus)