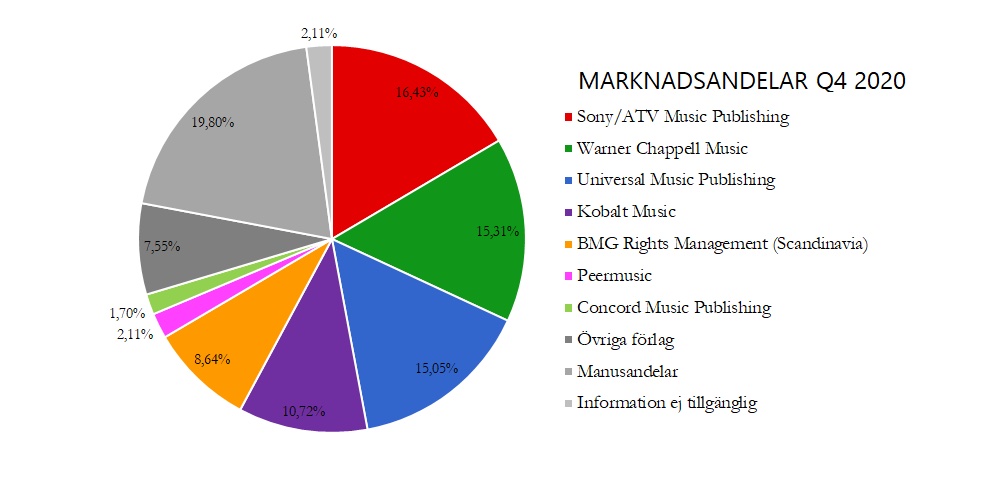 2021.02.23
Förlagens marknadsandelar Q4 2020
Sony Music Publishing behåller positionen som förlag med störst antal marknadsandelar även under det sista kvartalet av 2020. Men Warner Chappell Music och Universal Music Publishing ligger bara någon procent efter.
Sony Music Publishing, tidigare Sony/ATV, kniper 16,43 % av marknadsandelarna på singellistan, där Victor Leksells Svag fortfarande toppar (Carson Mattsson, Högdahl, Flygare Floderer, Silvergran, Leksell) [Sony/ATV, A Side Songs, Peermusic, Kobalt, Manus].
Men Warner Chappell ligger bara dryga procenten efter med 15,31% och Universal Music Publishing placerar sig trea med 15,05% av andelarna.
Andelen manus, det vill säga ej förlagda verk, har under perioden minskat, från 29,23% till 19,8%.
Kvartalssammanställningen påverkas av de traditionella julhittarna, som tar över stora delar av topplistan i december. Mariah Careys All I Want For Christmas Is You [Universal Music Publiching, Sony music Publishing, Kobalt] och Wham!s Last Christmas [Warner Chappell] hamnar på plats 8 respektive 9.
Andelen låtar på topplistan för Q4 som har svenska låtskrivare är denna gång 57 av 100. Fem av dem finns på topp 10. Förutom tidigare nämnda Svag är det Miriam Bryant & Yasin - Ge upp igen (Bryant, Kapari, Mahamoud) [Universal Music Publishing, Manus] på plats 3; Zara Larsson & Carola - Säg mig var du står (Duiser, Elias, Souer, Forsman) [Strengholt Music Publishing, Universal Music Publishing] på plats 5; The Weeknd - Blinding Lights (Tesfaye, Holter, Max Martin, Balshe, Quenneville) [MXM Music, Kobalt, Songs of Wolf Cousins, Warner Chappell, Universal Music Publishing] på plats 9 och Molly Sandén - Jag mår bra nu (feat. Newkid) (Ferrer, Högdahl, Sandén, Thell)[Sony/ATV, Manus] på plats 10.
Christel Valsinger, Musikindustrin.se
Kvartalssammanställningen avser musikförlagens marknadsandelar för den officiella svenska topplistan – Topp 100 singel. Diagrammet baseras på försäljningsindex från IFPI och www.sverigetopplistan.se
Victor Leksell - Svag
Carson Mattsson, Högdahl, Flygare Floderer, Silvergran, Leksell (Sony/ATV, A Side Songs, Peermusic, Kobalt, Manus)
24kGoldn - Mood (feat. Iann Dior)
Landis von Jones, Bach, Fedi, Slatkin, Olmo (Kobalt, Universal Music Publishing)
Miriam Bryant & Yasin - Ge upp igen
Bryant, Kapari, Mahamoud (Universal Music Publishing, Manus)
Joel Corry - Head & Heart (feat. MNEK)
Courtidis, Dare, Harvey, Emenike, Siddiqui, Applebaum, Corry, Thompson (Sony/ATV, Budde Music Publishing, Warner Chappell, Kobalt, Universal Music Publishing)
Zara Larsson & Carola - Säg mig var du står
Duiser, Elias, Souer, Forsman (Strengholt Music Publishing, Universal Music Publishing)
Internet Money & Gunna - Lemonade (feat. Don Toliver & NAV)
Toliver, Snodgrass, Donald, Goraya, Kitchens, Mitchell, Desir, Iatrou, Mira, Nichols, Wigdahl, Flores (Kobalt, BMG, Universal Music Publishing, Sony/ATV, The Bank Music Publishing, Manus)
Mariah Carey - All I Want For Christmas Is You
Afanasieff, Carey (Universal Music Publishing, Sony/ATV, Kobalt)
Wham! - Last Christmas
Michael (Warner Chappell)
The Weeknd - Blinding Lights
Tesfaye, Holter, Max Martin, Balshe, Quenneville (MXM Music, Kobalt, Songs of Wolf Cousins, Warner Chappell, Universal Music Publishing)
Molly Sandén - Jag mår bra nu (feat. Newkid)
Ferrer, Högdahl, Sandén, Thell (Sony/ATV, Manus)
Miss Li - Komplicerad
Gustafsson, Karlsson, Harwood (Warner Chappell, Manus)
Pop Smoke - What You Know Bout Love
Lumpkin, Oliver, Jackson, Zene (Sony/ATV, Concord Music Publishing, Songtrust, Warner Chappell, Manus)
Tate McRae - You Broke Me First
Harnage, McRae, Zaro (BMG, Kobalt, Sony/ATV)
Newkid - Starkare
Boyacioglu, Diaz Molina, Kapari (Sony/ATV, Manus)
Hov1 - När jag ser dig
Information ej tillgänglig (Information ej tillgänglig)
Jawsh 685 & Jason Derulo - Savage Love (Laxed - Siren Beat)
Nanai, Desrouleaux, Hindlin, Greiss (Sony/ATV, Universal Music Publishing, Kobalt, Manus)
Newkid - Du måste finnas
Andersson, Ulvaeus (Kopparnäset Immaterialrättigheter, Mono Music)
Justin Bieber - Holy (feat. Chance the Rapper)
Bellion, Bennett, Odegard, Pollack, Brown, Franks, Creatore, Peretti, Weiss, Bieber, Jones (BMG, Universal Music Publishing, Warner Chappell, Kobalt, The Bank Music Publishing, Raleigh Music Publishing)
Benjamin Ingrosso - Långsamt farväl
Scocco (Topco Music, Kobalt)
Triad - Tänd ett ljus
Lindbom, Strömstedt (Sony/ATV)
Darin - En säng av rosor
Kvint, Zanyar (Kvintessential, Sony/ATV, Manus)
Michael Bublé - It's Beginning to Look a Lot Like Christmas
Willson (Kobalt)
Mwuana - Loverman
Nyström, Collén, Resch Thomason (Warner Chappell, Sidelake Publishing, Manus)
José Feliciano - Feliz Navidad
Feliciano (BMG)
Einár - Unge med extra energi
Grönberg, Hassen (Lilly Raye Music Publishing, Warner Chappell, Manus)
Freddy Kalas - Hey Ho
Auke, Auke, Christiansen, Huse, Opsahl (Manus)
Justin Bieber & Benny Blanco – Lonely
Levin, O'Connell, Bieber (Universal Music Publishing, Kobalt)
Pop Smoke - For the Night (feat. Lil Baby & DaBaby)
Jackson, Marcussen, Petit, Jones, Kirk, Leutwyler, Raab, Dean, Jackson (Warner Chappell, Universal Music Publishing, Songtrust, Sony/ATV, Manus)
Cardi B - WAP (feat. Megan Thee Stallion)
Rodriguez, Almanzar, Foye, Owens, Pete, Thorpe (Sony/ATV, BMG, Universal Music Publishing)
Thomas Stenström - Ser du månen där du är ikväll? (Tillsammans igen)
Stenström (Warner Chappell)
Maximus - Galen
Lindskoug, Mårtensson, Rosenberg, Benteby (Manus)
Brenda Lee - Rockin' Around the Christmas Tree
Marks (Warner Chappell)
Bobby Helms - Jingle Bell Rock
Beal, Boothe (Musikförlaget Essex)
Victor Leksell - Bedövning
Carson Mattsson, Högdahl, Alfredsson, Forsling, Leksell, Jamalde (Sony/ATV, A Side Songs, Peermusic, Kobalt, Supertive, Manus)
Tiësto - The Business
Bell, Karlsson, Rundberg, Verwest (Warner Chappell, BMG, Kobalt)
Ariana Grande - Santa Tell Me
Ilya, Kotecha, Grande (Wolf Cousins, Warner Chappell, BMG, MXM Music, Kobalt, Universal Music Publishing)
DaBaby - Rockstar (feat. Roddy Ricch)
Portaro, Kirk, Moore (Warner Chappell, Kobalt, Universal Music Publishing)
Harry Styles - Watermelon Sugar
Hull, Johnson, Rowland, Styles (Universal Music Publishing, Concord Music Publishing)
Miriam Bryant, Jireel - Ditt fel
Bryant, Eliasson, Hultman, Pereira, Sibel (Warner Chappell, BMG, Nivy, Sony/ATV, Manus)
Adolphson-Falk - Mer jul
Falk, Adolphson (BMG)
Topic - Breaking Me (feat. A7S)
Mueller, Tidebrink Stomberg, Topic, Irvine (Sony/ATV, Universal Music Publishing, BMG)
Laleh - Det kommer bli bra
Pourkarim, Thörn (Manus)
Tommy Körberg & Sissel Kyrkjebö - Julen är här
Butt, Rydell (Misty Music)
James Arthur - Train Wreck
Argyle, Arthur, Jackson (Concord Music Publishing, Peermusic, Sony/ATV)
Ariana Grande - Positions
Charles, Grande, Holmes, Barrett, Brown, Franks, Bates, Jarvis (Universal Music Publishing, Sony/ATV, Warner Chappell, BMG, The Bank Music Publishing)
Lewis Capaldi - Someone You Loved
Capaldi, Roman, Barnes, Kelleher, Kohn (BMG, Sony/ATV)
Babblarna - Babblarnas vaggvisa
Rask, Tisell, Sjölander (Hatten Förlag, Sony/ATV)
Andy Williams - It's the Most Wonderful Time of the Year
Pola, Wyle (Peermusic)
Miss Li - Lev nu dö sen
Al Fakir, Askergren, Pontare, Rekik (Alexis Publishing, Universal Music Publishing, Rex Music, Warner Chappell)
Newkid - Kanske var vi rätt bra ändå
Ferrer, Alfredsson, Forsling (Sony/ATV, Manus)
Ritt Momney - Put Your Records On
Bailey Rae, Beck, Chrisanthou (Kobalt)
Band Aid - Do They Know It's Christmas?
Geldof, Ure (Warner Chappell)
Dree Low - Pippi
Abdulle, Jansson, Montin (Sony/ATV, Manus)
Albin Johnsén & Lovad - Vi gjorde vårt bästa
Andreasson, Gino Yonan, Johnsén (Warner Chappell, Manus)
M.D. - Välkommen hem
Röhr, Sandén (Applebay Songs, Universal Music Publishing)
The Pogues feat. Kirsty Maccoll - Fairytale of New York
Finer, Mac-Gowan (Sony/ATV, Universal Music Publishing)
Hov1 - Långt bort härifrån
Information ej tillgänglig (Information ej tillgänglig)
Chris Rea - Driving Home for Christmas
Rea (Warner Chappell)
Justin Bieber - Mistletoe
Atweh, Messinger, Bieber (Kobalt, Sony/ATV, Universal Music Publishing)
Frank Sinatra - Let It Snow! Let It Snow! Let It Snow!
Cahn, Styne (Concord Music Publishing, Warner Chappell)
CJ - Whoopty
Mithoon, Antoniou, Soriano (Universal Music Publishing, Sony/ATV, Warner Chappell)
Ofenbach & Quaterhead feat. Norma Jean Martine - Head Shoulders Knees & Toes
Hight, Lauduique, Laurent de Rummel, Martine, Riegert, Tapen (Sony/ATV, Kobalt, BMG, Sentric Music Publishing)
Ana Diaz - 100
Diaz Molina, Khoshoi, Lindgren (Kobalt, Manus)
Benjamin Ingrosso - Tänd alla ljus
Bernardo Kågell, Bornebusch Alverus, Kocuvie-Tay, Imam (2Stripes Music Publishing, Warner Chappell, Refune Music Rights, Universal Music Publishing)
Ricky Rich - Bless Me
Akdogan, Yousef (Rex Music, Warner Chappell, Manus)
Myra Granberg - HKF (Håll käften & försvinn)
Granberg (Sony/ATV)
Miley Cyrus - Midnight Sky
Bell, Bellion, Cyrus, Juber, Tamposi, Wotman (Sony/ATV, Kobalt, The Bank Music Publishing, BMG, Universal Music Publishing)
Bing Crosby - White Christmas
Berlin (Universal Music Publishing)
Peter Jöback - Jag kommer hem igen till jul
Mattsson, Frisk (BMG)
Pop Smoke - Mood Swings (feat. Lil Tjay)
Hedberg, Jackson, Merritt, Gomez, Sumpter (Sony/ATV, Warner Chappell, Manus)
Billie Eilish - Therefore I Am
O'Connell, O'Connell (Kobalt, Universal Music Publishing)
Lewis Capaldi - Before You Go
Capaldi, Plested, Barnes, Kelleher, Kohn (BMG, Sony/ATV)
SAINt JHN - Roses (Imanbek Remix)
Phillips, Coyne, Drozd, Stashenko, Ivins (Sony/ATV, BMG)
The Kid Laroi - Without You
Howard, Fedi, Slatkin, Walsh (Universal Music Publishing, Manus)
Tones and I - Dance Monkey
Watson (Warner Chappell)
Yasin - Young & Heartless
Mahamoud, Yousef (Rex Music, Warner Chappell, Manus)
John & Yoko, The Plastic Ono Band - Happy Xmas (War Is Over)
Lennon, Ono (Universal Music Publishing)
Yasin - Hiphop N RnB
Badr, Mahamoud (Manus)
Shawn Mendes - Wonder
Harris, Mendes, Hull, Mercereau (Sony/ATV, Universal Music Publishing)
Linnea Henriksson - Fira jul med mig
Henriksson, Södahl, Eckeborn (Warner Chappell, Manus)
Bolaget - Dum
Ahlborg, Bergestål, Jörgensen, Norqvist (Manus)
Victor Leksell - Ha dig igen
Adam Rymdpojken Englund, Lindgren, Svedin, Thell, Leksell (Sony/ATV, BMG, Kobalt, Manus)
Oberg - Take My Hand
Andersson, Haake, Jurca (Ninetone Songs, Manus)
Agnes - Fingers Crossed
Al Fakir, Carlsson, Pontare (Universal Music Publishing)
Benjamin Ingrosso - Judy min vän
Lindeborg, Wallis (Universal Music Publishing)
The Weeknd - In Your Eyes
Tesfaye, Holter, Max Martin, Balshe (MXM Music, Kobalt, Songs of Wolf Cousins, Warner Chappell)
Macky - Pa Pa
Chavez Pacheco, El Amri (Manus)
Norlie & KKV, Junie - Komma över dig (Spotify Studio It's Hits Recording)
Björk, Wright, Fahlberg, Vadenhag (Catapult Songs, Manus)
Ringnes-Ronny - Valhalla
Björntvedt, Kalve (Manus)
Jason Derulo - Take You Dancing
Brunila, Kiriakou, Solovay, Desrouleaux, Charles (Concord Music Publishing, Kobalt, Sony/ATV, Universal Music Publishing, Warner Chappell)
Molly Sandén - Rosa himmel (från "Störst av allt")
Johansson, Lindvall (Universal Music Publishing, Manus)
Miriam Bryant - Du med dig (Akustisk)
Berney, Bryant, Özan (Kobalt, Sony/ATV, Manus)
Einár & SAMI - Feelings
Selfe, Grönberg, Rekik (Manus)
Yasin, Dante - Canada Goose
Mahamoud, Badr, Lindhe (Manus)
Just D - Juligen
Doctor C, Pedd (BMG, Universal Music Publishing)
Carola - Jul, jul strålande jul
Evers, Nordqvist (Trad)
Lewis Capaldi - Bruises
Capaldi, Earp (BMG, Concord Music Publishing)
Einár, Moewgli & 5iftyy - Pop Smoke
Engström, Ghide, Grönberg, Mohdhi (Manus)
Myra Granberg - Tills mitt hjärta går under
Granberg (Sony/ATV)
Miriam Bryant - Mi Amor (Blåmärkshårt) feat. Cherrie/Molly/Stor
Alderin Francis, Bryant, Maggio, Runemark, Infante Azocar (Universal Music Publishing, Manus)